Enjoy Your Stay
Services available in the Great Falls International Airport terminal are provided to make your trip more enjoyable.
Great Falls International Airport services include a bar and restaurant with banquet services available, a gift shop, airport security, parking, Customs and Border Protection, and aircraft rescue and firefighting.
Enjoy the works of art and the comfortable seating while waiting for your friends and relatives to de-plane.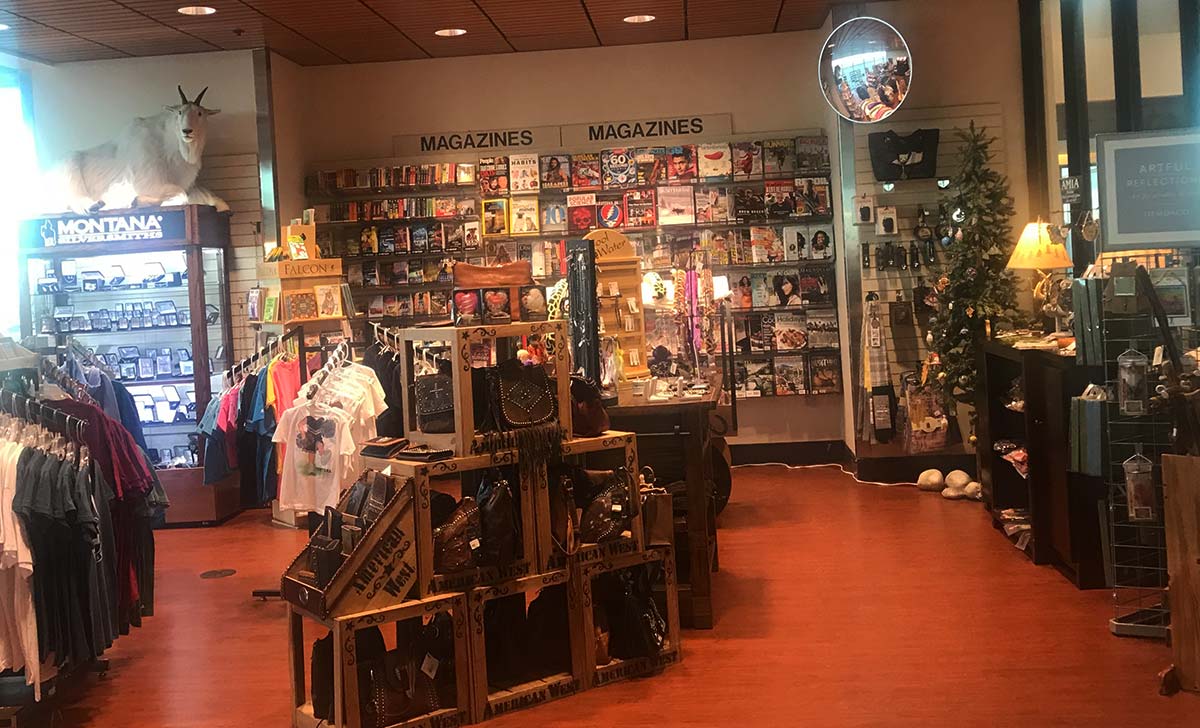 Gift Shop
The Great Falls International Airport's Gift Shop specializes in and carries a wide variety of Montana made craft items and souvenirs. Quick snacks, light meals, and beverages are also available.
Visitors can also enjoy the airfield viewing area adjacent to the Gift Shop.
Located on the second floor of the Airport Terminal Building, store hours are 5:30 am to 6:00 pm daily.
Restaurant and Banquet Facilities
Rockies Bar and Grill
Located inside TSA security, Rockies is open for all outbound flights. Relax with a microbrew or a cocktail and enjoy views of the airfield and the Rocky Mountains. Rockies serves hot breakfast, hot sandwiches, salads, baskets of fries and other favorites.
Restaurant
Located on the second floor of the terminal prior to security, the Airport Restaurant is open from 7am to 3pm. Closed on Saturday. Featuring a full breakfast and lunch menu, the Airport Restaurant is a great place to visit with family before or after a flight.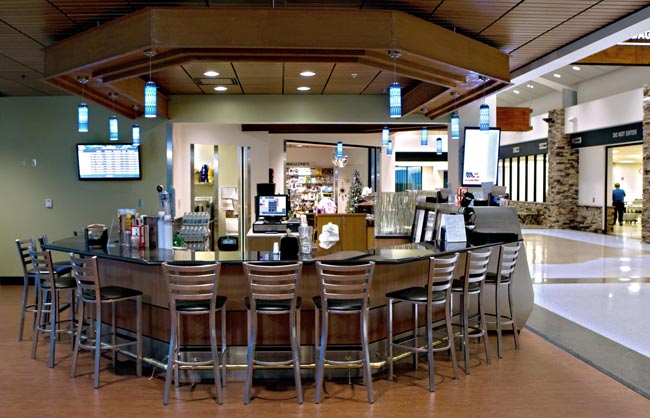 Banquet Facilities
Banquet Facilities can accommodate small or large groups. Our banquet rooms are the most popular in the city. The panorama room can accommodate up to 350 people. The Top O' the Falls room can accommodate up to 225 people. Our banquet rooms have beautiful panoramic views.
Meeting Rooms for smaller groups are also available.
Guest Business Services
Wireless internet is available throughout the terminal.
Contact Information
For information or reservations call 406-727-9240, or visit Air Host's web site at www.airhostgtf.net.