Airport Parking
Our Hourly, Daily, and ValuPark lots are perfect for travelers seeking a safe and secure place to park their vehicles. The Hourly and Daily lots are located directly in front of the terminal building. The ValuPark lot is located near the toll plaza. Parking rates are listed below. For more information or assistance with parking questions, please call Airport Security at 406-750-2387.
Parking Plaza only accepts Debit or Credit card payments.
Parking Rates

---

Hourly Lot:

0 to 15 minutes

Free

16 to 30 minutes

$1.00

Each add'l 30 minutes

$1.00

Daily (24 hours)

$12.00

---

Daily Lot:

0 to 60 minutes

Free

60 to 120 minutes

$1.00

Each add'l 30 minutes

$1.00

Daily Max

$7.00

Weekly Max

$35.00

---

ValuPark Lot:

Daily (24 hours)

$7.00

Weekly (7 days)

$25.00

---

Metered Parking:

Each 30 minutes*

$1.00

*4 hour max stay

---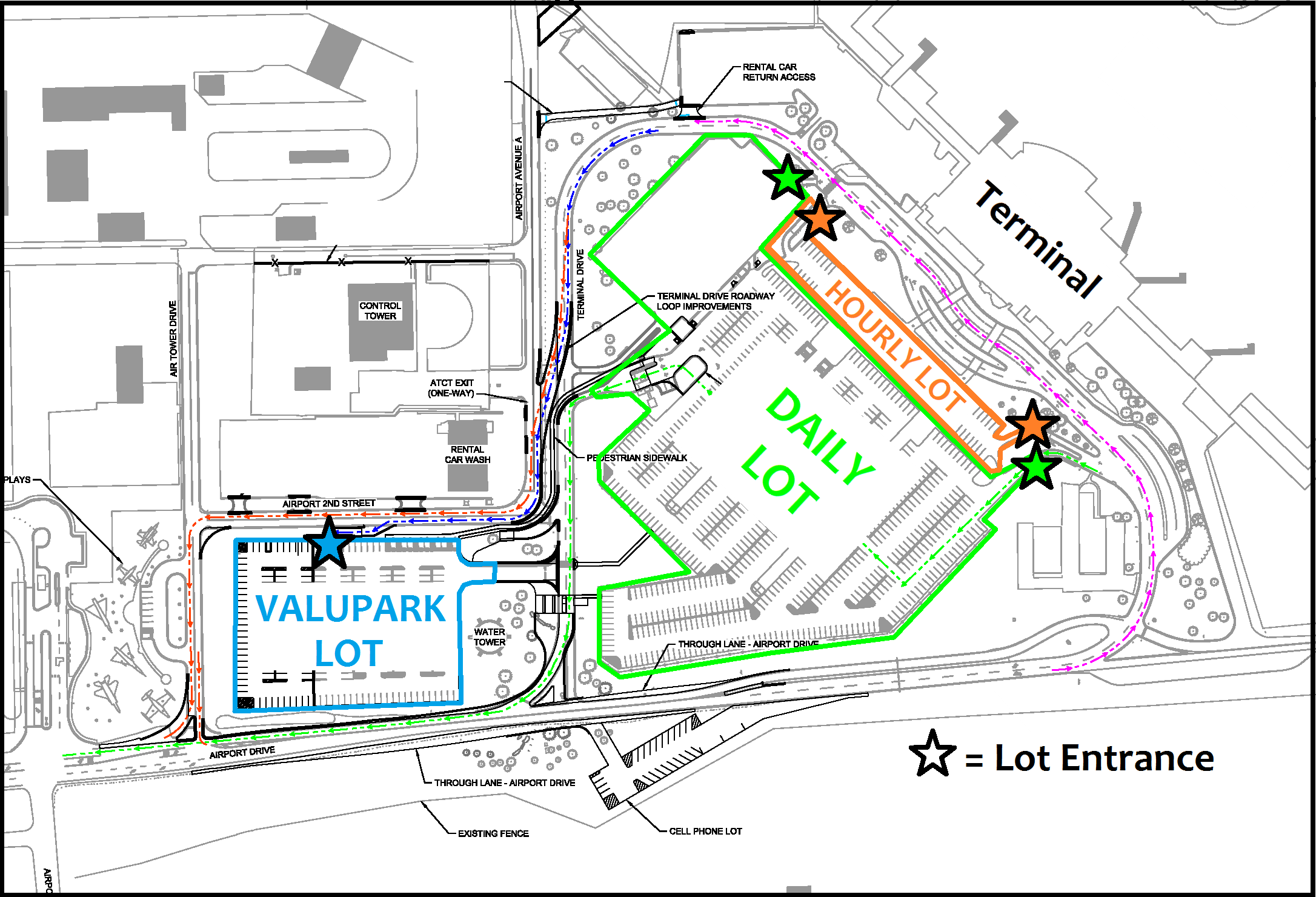 Ground Transportation
Located three miles southwest of Great Falls, the Great Falls International Airport offers several ground transportation resources. Currently, the most popular options are Auto Rentals and Taxi Service. Statewide bus services are also available by calling the phone numbers or visiting the websites listed below. Amtrak Train stations are located in the nearby cities of Shelby and Havre.
Taxi Service
BlackedOut 406 Limo &
24/7 Taxi Service
Visit Website
406-781-5218
UBER services available in our area--Please see the App for more information
Auto Rental Companies
Avis/Budget Car Rental
800-230-4898
406-761-7610
Sun-Sat 8:00AM to 11:30PM
2800 Terminal Drive
Great Falls, Montana 59404
Hertz Car Rental
800-654-3131
406-761-6641
Sun-Sat: 7:00AM-11:45PM
2800 Terminal Drive
Great Falls, Montana
Enterprise Car Rental
800-325-8007
406-453-4386
Sun-Fri 9:00AM-12:00AM
Sat: 9:00AM-9:00PM
2800 Terminal Drive
Great Falls, MT 59404
National/Alamo Car Rental
800-227-7368
406-453-4386
Sun-Sat: 6:00AM-11:45 PM
2800 Terminal Drive
Great Falls, Montana 59404